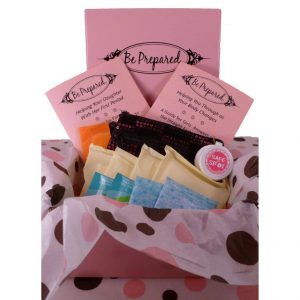 We are so excited for January's Tweet Chat, co-hosted with You ARE Loved that we are giving away a Be Prepared 1st Period Kit!  To help promote the chat and encourage as much participation as possible we will be giving away a kit to one lucky contestant.
The Be Prepared 1st Period Kit is the perfect kit to help parents and girls prepare for the changes ahead. No need to worry about fumbling your way through the sometimes awkward conversation of what to expect with your first period.  Don't dread this change, celebrate it! With this kit, you will Be Prepared! It includes all the supplies she will need to get her started and the information you need to answer her questions (and yours!)
15 Comments | - We'd love to hear from you!
---
A site about periods, you say? Is that really necessary? After all, isn't that what parents and sex education classes are for?
The truth is that nothing can be further from the truth.
In fact, for girls and their parents, no matter how loving and involved, 'growing up' can be a difficult, confusing albeit beautiful phase of life – that is often misunderstood and laced with silent shame. Especially when it comes to sexual development and periods.
So one intuitive and determined mother, finding herself in the midst of puberty with her own daughter decided to do something about it. She found it conflicting that there was nothing on the market that she could give to her daughter, to mark this special time in her life. So she created one, and she made a vow to go one-step further!
To also educate.
To make resources for parents and girls readily available and easily accessible, as they SHOULD BE. To ease the transition so it becomes one of empowerment rather than shame – of celebration rather than confusion.
And most importantly, to spread the word, so that ALL girls and ALL parents could benefit from the truth about menstruation and puberty, which starts with the fact that it is 100% normal and completely natural. (And these days, starting earlier than ever)
Branching Out – How Be Prepared Period Has Grown –
What started out as a homegrown business to provide girls with a special gift that they could be given when they started their periods has turned into a full throttle platform to raise period awareness and ensure that girls and parents readily find the information and resources that they need, when they need it. Click to continue reading… »
2 Comments | - We'd love to hear from you!
---
By Natracare
Toxic Shock Syndrome was back in the headlines recently following an investigation on US television about the tampon related death of Amy Elifritz.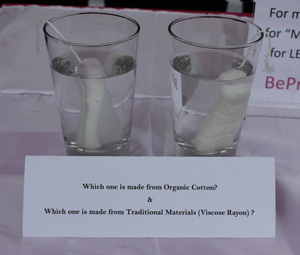 In response women around the world have been asking what is in their tampon and are there any potential health risks?
http://www.wishtv.com/dpp/news/local/marion_county/toxic-shock-i-team-8-investigation-attracts-attention
Natracare raised the issue of fibre loss in conventional tampons at least 15 years ago. The reaction from those conventional brands was that the body naturally dispels the fibres. We asked nurses doing smear tests and they said that they can always tell who uses tampons because they have to remove old tampon fibres before achieving a clear smear for sampling. Conventional tampons mostly use rayon to make their tampons. Rayon is a straight, smooth fibre made from wood pulp. These smooth fibres have little integrity so they slide apart more easily when wet. Eventually, these same manufacturers who claimed fibre loss was not an issue, decided to put a polypropylene (that's plastic to you and me) non-woven wrapper around the rayon core to reduce the loss of fibres.
No Comments | - We'd love to hear from you!
---