We've talked about Menstrual Cups, Natural Pads, and Organic Tampons. For our last stop on the Natural Product Quest Blog Series, we're checking out a
natural remedy for cramps
. I'm a seriously heavy cramper. On any given month, you can usually find me reaching for that bottle of extra strength pain relievers before you can say, "Ouch!" However, the older I get, the more conscious I become of how my choices affect my body and the earth. I try to avoid taking medicine, and instead choose to supplement with essential oils or natural remedies whenever possible. Still, when Aunt Flow arrives, I often find myself wishing I could just take a pill to make the discomfort go away. Because of this, I was super curious to try the Cramp Tea from Be Prepared Period. Was it possible that a natural remedy could help to alleviate my monthly woes? I was willing to give it a shot. 
When it first arrived, I was pleasantly surprised. First off, the packaging is super adorable. The tea comes with a fun heart-shaped steeping tool and detailed instructions on how much and how often to use the tea. It just 
looked
 like it was going to make you feel better. I was ready to see what, if any, affects the tea had on my symptoms.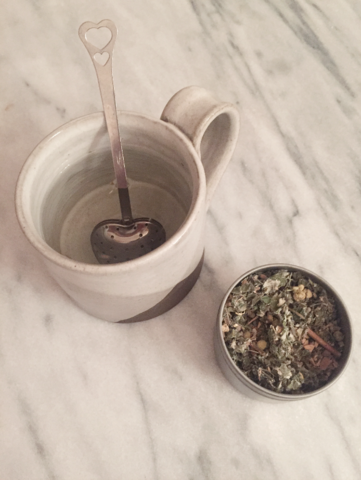 I steeped my first cup, and followed the instructions to cover the tea as it brewed to create a stronger mix. Since I didn't have anything that would cover the cup, I punched a hole in a paper plate and laid it on top of the mug.
Upon my first sip, I was surprised by how tasty it was! Whether it was going to help with my cramps or not, I was so happy to find that the tea was super pleasant to drink. I could see myself switching my second cup of coffee up for this each day. But since I wasn't reviewing the tea on taste alone, I kept sipping, anxious to see if the results held true for my body. 
I drank my first cup on my last day before my period. When I woke up, I had that unpleasant feeling in my lady parts - not quite pain yet, but definitely enough for me to reach for the pain relievers. I sipped my first cup at 10:15 am, after eating breakfast and before my first cup of joe. (I know, I'm supposed to avoid caffeine around my period - but it's just so delicious!) It was pleasant to drink, but I didn't notice a huge impact at first. At the same time,  I didn't reach for the Tylenol, either. So it's safe to say my level 4 cramps met their match! 
I started my period the next afternoon, and decided to give the tea another go. This time, I went for the stronger "dose" of dried tea, as the instructions suggest. I had several cups of warm tea, and did notice that the more I sipped, the more my side effects seemed to dissipate. It seemed like the act of warming the water, brewing the tea, and sipping from the mug was a much healthier ritual than walking to the medicine cabinet and opening up a pill bottle.