Uncategorized
By Stacy Lyon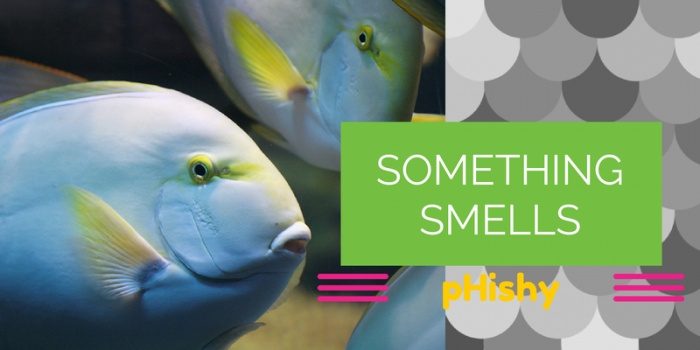 Something Smells pHishy…
We hear it on TV commercials, we see it in ads and we read it on labels: "pH balanced", but what exactly does that mean?
pH, or potential for hydrogen, is a measurement scale of acidity and alkalinity. Readings from 0–7 are considered acidic, pH from 7.0–14 is considered basic, or alkaline with 7.0 considered neutral.
Now what does that have to do with feminine health you ask? It's important for every woman to not only understand the pH scale and how it affects their whole entire body but specially the fact that your vagina is considered an acidic environment. This low pH provides protection from invasions from bad bacteria and infections.
No Comments | - We'd love to hear from you!
---
By Robyn Srigley, BA, PTS, CNP, NNCP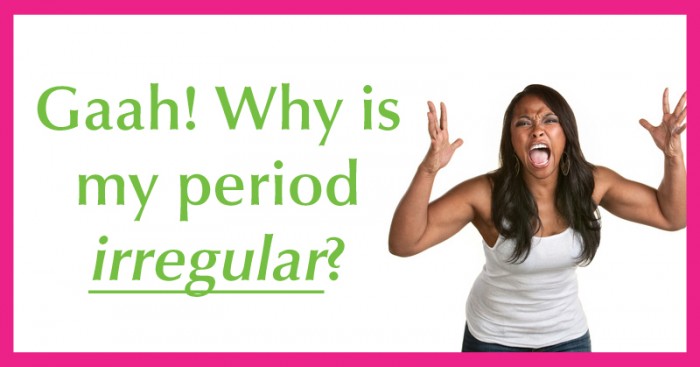 Aunt Flo can be such a kill joy. Bleeding for a week every month can be a real nuisance! As strong, independent women, being bogged down by cramps, mood swings, headaches and fatigue can put a real damper on the wonderful things we do in our lives every day. But what happens when we don't get our periods on a regular basis?
This happens to women through all walks of life, for many different reasons. It's so important to not only recognize that irregular periods aren't normal, but that they could be an indication of something more serious. See if you're on track with Aunt Flo below.
7 Comments | - We'd love to hear from you!
---
by Jenn Marie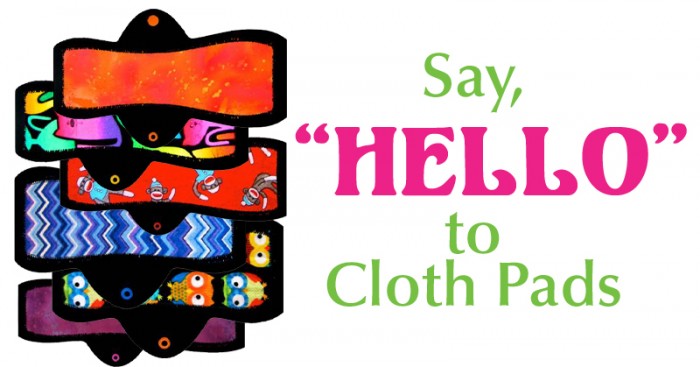 When it comes to understanding "that time of the month," there's no shortage of confusion among people of all ages and genders. One of the most common period-related myths is that there are only two types of feminine protection available: disposable pads and tampons. In reality, we have tons of other choices! Some of the most popular include menstrual cups, sea sponges, diaphragms, and my favorite: reusable cloth pads.
The idea behind cloth pads is simple: instead of the typical pad made from paper and plastic, cloth pads are made from fabric, allowing them to be washed and reused just like underwear. It may sound strange, but it's not a new or unusual idea; women have been using cloth pads throughout most of history! It was only very recently, as our society shifted toward a preference for single-use products, that disposable pads and tampons were first marketed to women.
With the popularity and convenience of disposables, why would anyone want to use cloth? Here are just a few of the many reasons… Click to continue reading… »
No Comments | - We'd love to hear from you!
---
By Leslie Vandever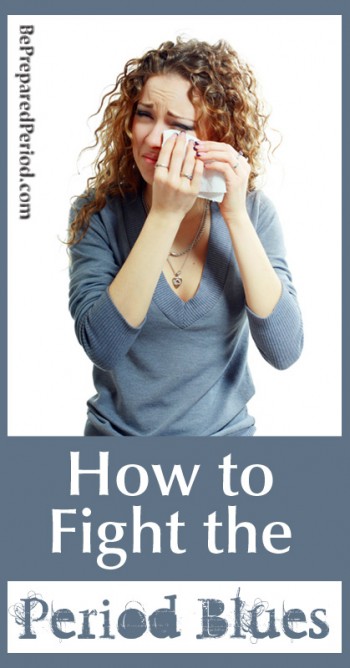 If you get the blues, feel moody, and suffer physical discomfort immediately before and during the first few days of your menstrual period, you're not alone.
According to the National Institutes of Health (NIH), up to three out of four women experience premenstrual syndrome (PMS) symptoms each month during their fertile years. Researchers believe changes in brain hormone levels, along with social, cultural, biological, and psychological factors might be the culprits, but so far, the exact cause is still a mystery.
Physical symptoms of PMS may include:
• bloating and gas
• abdominal cramps
• backache
• tender breasts
• diarrhea or constipation
• headache
• food cravings
• insomnia or oversleeping
Mental symptoms may include:
• difficulty concentrating
• forgetfulness
• sluggishness
• sadness
• tension and anxiety
• hostility
• mood swings
• changes in libido
• fear and guilt
• poor self-image
1 Comment | - We'd love to hear from you!
---
By Shawna H.
Going through puberty can be a tough time for a young girl. That is even more true when the young lady is autistic.  There seems to be scant literature pertaining to females on the autism spectrum, and even less speaking about, or to young autistic girls about the changes of puberty, and beginning menstruation.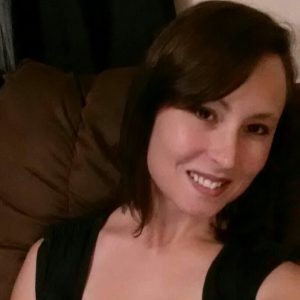 I can't speak for all females on the spectrum about getting your period, and the whole puberty process. I can only relay my experience, and maybe some of that might be helpful for other young girls, or her parents in understanding. I have heard many ladies on the spectrum who have had quite different experiences with puberty than I did.
For me, it was a change that I welcomed. I looked forward to getting my period, and becoming an adult. It was exciting to me to become a woman. I learned a lot about it at school during sex ed. There was a lot of information available during that time to learn from. I think that this may have made the biggest difference to me in not only welcoming my period, but accepting my body as one in transformation. Knowing what to expect was paramount to easing my anxiety, and allowing me to be open to change.
Here are some things that I found to be helpful in preparing me for menstruation, and other changes that occur during puberty: Click to continue reading… »
No Comments | - We'd love to hear from you!
---
It was summer 2002, right around my 11th birthday. I had gone to my dad's house for a weekend visit and ended up getting my first period on the Friday night.
I asked my mom to come pick me up on the Saturday because my dad and his wife were just not prepared to be helpful. Periods, sexual health, etc. type topics (or any type topics, really!) have never been uncomfortable or unwelcome at my mom's house, so when I got home, my stepdad greeted me with a loud "So I hear you're a woman now!", a huge smile, and a hug.
My mom generally didn't use tampons, so her friend came by with a small box because we all planned on going swimming. They both sort of talked me through inserting it properly and comfortably from the other side of the bathroom door, and then we just went about our day! Apart from not being in the most ideal location at first, I know a lot of girls who have experienced worse! Not a bad first time!
Oh, and 12 years later, I'd highly recommend the DivaCup or another brand of menstrual cup! Super easy, environmentally friendly, and cost-effective!
Congratulations to all my fellow females who have entered womanhood!

And good luck to those who will soon be embarking on this beautiful journey!
Girl power!
xoxo
By JLH
No Comments | - We'd love to hear from you!
---
FOR IMMEDIATE RELEASE
SEATTLE — Be Prepared. Period. has launched their brand new website and are echoing the sentiments of their fans by hailing it as "A one stop shop for all things menstrual."
Tara Bruley, Seattle area mom, health & environmental enthusiast and founder of BePreparedPeriod.com said she created the website to help girls of all ages have a "Better Period."
"In a culture of menstrual misinformation and societal taboos, Be Prepared Period is a welcomed resource for girls, women and parents alike. From eco-friendly products to monthly educational chats, every facet of Be Prepared is designed to inform and empower – even celebrate. With constant, compassionate advice and updates, it truly is a platform like no other for menstruation and transition from puberty; indeed, it will help all readers Be Prepared!" boasts Heather Guidone, Surgical Program Director at the Endometriosis Research Center.
Bruley states, "Periods are a topic many are still uncomfortable talking about openly, which is what hinders many from learning how to have a healthier menstrual cycle."
Keeping the needs of so many in mind, "veteran menstruators" to girls experiencing menarche, BePreparedPeriod.com has rapidly grown to be the comprehensive menstrual resource it is today. Initially starting as a site offering 1st period kits and information for parents and developing girls, it quickly grew to also be a resource for women looking to improve their menstrual health.
Their resources include, helpful articles on a variety of topics including puberty (with articles just for dads), first periods, PMS, PMDD, PCOS, toxic shock syndrome, endometriosis and more. Click to continue reading… »
2 Comments | - We'd love to hear from you!
---
By Gabrielle Lichterman
Dread your period week because of menstrual-related aches and fatigue? Hey, it's not all bad! The onset of your period signals significant hormone changes that can make you happier and healthier.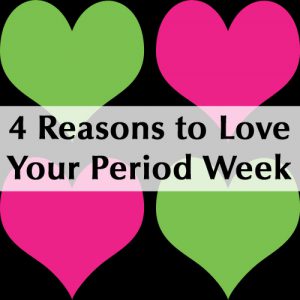 Here are 4 reasons you can look forward to your flow:

1. Your period means the end of annoying PMS!
There's no better antidote to annoying premenstrual syndrome—and the moodiness, irritability, sleeplessness and other discomforts that come along with it—than getting your period. That's because the start of menstruation signals that estrogen is rising, reversing the cause of your premenstrual woes: plunging estrogen. Even better? This hormone continues to rise all throughout your menstrual week, improving your mood, outlook and energy as it climbs! (Hint: Eating foods high in iron—such as beans, fortified cereal, spinach and tofu—or taking a daily multivitamin that contains iron can help boost your mood and energy even faster by replacing iron lost during menstruation.)

2. During your period week, the bathroom scale numbers go down!
No Comments | - We'd love to hear from you!
---
By Madeline
Hi! I'm from the Dominican Republic and this is the story that I share with this horrible disease.
Ever since I was 15 yrs old and it was time to get my period, it was a time of suffering. It hurt a lot, I used to cry a lot and spend two days in bed because I couldn't handle the pain. I started visiting the gynecologist and she used to tell me that it wasn't normal to have that kind of pain every month.
Years passed and the pain grew higher, I couldn't evacuate because of the pain I had, I couldn't walk more than 3 hours without pain. I first thought that my problem belonged to a gastroenterologist 'cause I thought the problems where with the evacuations even if I didn't have my period.
So when I was 18 (notice that I spent all those years from doctor to doctor with a lot of pain) I went visit the gastro and he indicated some lab test and abdominal and pelvic US. There it was, I had an ovarian cyst "probable endometriosis", I had to visit my doctor again. She indicated an exploratory laparoscopy which I didn't do because my father didn't want to.
So I went under contraceptive pills for three months. Those were the worst months of my life, I couldn't sleep, eat, walk. If I had my period, nausea, vomit, would appear as well. I passed out a couple of times and when I had the next pelvic US the endometriosis would grow more and more.
At the end, the gynecologist decided to operate and when they opened my belly the ovary exploded so they took it out to prevent future ectopic pregnancy. The right ovary had some endo so they just cleaned them out.
After the surgery I went on treatment with Lupron for 6 months, I was happy I had no pain anymore.
I'm 22 yrs old right now, I have no pain and no endo. I sometimes get a little bit of pain and it scares me to think it would be back or something so I just go periodically to do an US to make sure that if it happens again I have time to get rid of it.

Always think of endometriosis!! It's not normal to have pain during your period!
No Comments | - We'd love to hear from you!
---
By Becky Mantuano
I'm going to try and tell you (and not leave anything out) because it's been one heck of a journey. I guess I always knew something just wasn't right.
I started my cycles at 13 and they were always painful. Crippling I guess you could say.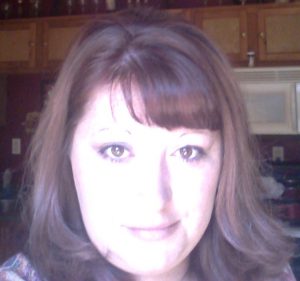 At 16 I went on Depro Provera which was a blessing and a curse all bundled up together. On one hand no more painful periods, on the other, drastic weight gain (I'm talking 150 pounds weight gain) in a matter of the 2 years that I was on it. I had depression so bad I didn't even want to get out of bed, and massive hair loss.
So at 18 when I figured out what was the cause I stopped taking it. Pain came back about 3 months later. I rocked on like this for another 3 years without taking anything. And then a new pain. Right shoulder pain, bad indigestion every month like clock work, and when I was on my period there was the new pain growing in intensity every month.
No Comments | - We'd love to hear from you!
---