Endometriosis
No Comments | - We'd love to hear from you!
---
No Comments | - We'd love to hear from you!
---
No Comments | - We'd love to hear from you!
---
No Comments | - We'd love to hear from you!
---
No Comments | - We'd love to hear from you!
---
No Comments | - We'd love to hear from you!
---
My period used to be incredibly painful. The best way for me to describe how they felt was like being ripped apart by Freddy Krueger from the inside. I didn't know anyone who had as much pain as I did with my menstrual cycle.
I did the usual things like taking lots of over the counter painkillers and hot packs. These would only take the edge off the intense pain I was experiencing. I knew of no other tools to try.
When I finally spoke with my doctor, she had the usual recommendations.  We spent about nine months trying different pharmaceutical treatments such as antidepressants and oral birth control pills.  The oral birth control pills help to reduce my pain from 10 out of 10 pain to 7 out of 10 pain. This was considered the best possible outcome. Click to continue reading… »
No Comments | - We'd love to hear from you!
---
No Comments | - We'd love to hear from you!
---
What is Endometriosis?
It is a hormonal and immune disease affecting girls as young as eight and women of all ages.  The name comes from the word, endometrium, which is the tissue that lines the inside of the uterus and builds up and sheds each month in the menstrual cycle.  In "endo" tissue like the endometrium is found outside the uterus in other areas of the body, most commonly in the abdomen.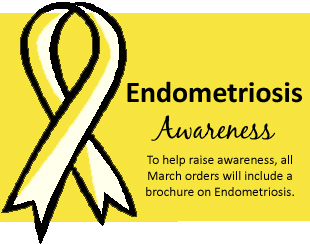 What are the symptoms?
Common symptoms include pain with periods; pain with intercourse, urination, or with a bowel movement; and infertility.
Period Pain is Not Normal!
That's right!  It is not normal to be in pain during your period.  If pain during a menstrual period cannot be relieved by over-the-counter pain medication and a heating pad, then endometriosis should be suspected.  It is important to be diagnosed as soon as possible, as earlier diagnosis and treatment may reduce the progression and severity of the disease.
2 Comments | - We'd love to hear from you!
---
By Madeline
Hi! I'm from the Dominican Republic and this is the story that I share with this horrible disease.
Ever since I was 15 yrs old and it was time to get my period, it was a time of suffering. It hurt a lot, I used to cry a lot and spend two days in bed because I couldn't handle the pain. I started visiting the gynecologist and she used to tell me that it wasn't normal to have that kind of pain every month.
Years passed and the pain grew higher, I couldn't evacuate because of the pain I had, I couldn't walk more than 3 hours without pain. I first thought that my problem belonged to a gastroenterologist 'cause I thought the problems where with the evacuations even if I didn't have my period.
So when I was 18 (notice that I spent all those years from doctor to doctor with a lot of pain) I went visit the gastro and he indicated some lab test and abdominal and pelvic US. There it was, I had an ovarian cyst "probable endometriosis", I had to visit my doctor again. She indicated an exploratory laparoscopy which I didn't do because my father didn't want to.
So I went under contraceptive pills for three months. Those were the worst months of my life, I couldn't sleep, eat, walk. If I had my period, nausea, vomit, would appear as well. I passed out a couple of times and when I had the next pelvic US the endometriosis would grow more and more.
At the end, the gynecologist decided to operate and when they opened my belly the ovary exploded so they took it out to prevent future ectopic pregnancy. The right ovary had some endo so they just cleaned them out.
After the surgery I went on treatment with Lupron for 6 months, I was happy I had no pain anymore.
I'm 22 yrs old right now, I have no pain and no endo. I sometimes get a little bit of pain and it scares me to think it would be back or something so I just go periodically to do an US to make sure that if it happens again I have time to get rid of it. 🙂
Always think of endometriosis!! It's not normal to have pain during your period!
No Comments | - We'd love to hear from you!
---